About
Welcome to ThaiSolicitor.com the first  'Reading Room'  for Thai Law

This website has been created by WERACHON LAW OFFICE, a Thai independent law firm serving a British and Irish clientele in Pattaya City and surrounding areas.
With independence from political and business influence, the firm has created this website as the first "Fountain of Knowledge" for expatriates in Pattaya  who are thirsty for truth and reality. We strongly believe that only the power of knowledge can save you and set you free  from any dilemmas in this country.
In Pattaya where most people pray "Mammon, Mammon, My Lord" in stead of "Almighty God, My Lord", you can usually only find information which is uneconomical with the truth. Jesus and the Lord Buddha had parallel sayings "Only the truth shall set you free!" and "One who acts on truth is happy in this world and beyond".
We do not want to waste your time by blowing a trumpet about our firm, rather, you are cordially invited to visit our Reading Room There you will find many articles containing memoirs contributed by Solicitor Ponthep Werachon and his friends. All topics are on Thai Laws on Foreign Ownership & CAVEAT EMPTOR.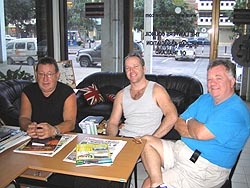 We are told that "The Buyer must beware!" In Pattaya however, most buyers always raise the question "How can the Buyer beware if they are not aware" We hope that our "Reading Room" will be the place you may find the answer to many questions you may have.
The succinct versions of all articles have been published in "Pattaya Today Newspaper" and "Real Estate Guide" under the copyrights of Ponthep Werachon.