The Team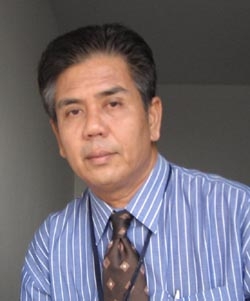 Ponthep Werachon, partner and principal solicitor of WERACHON LAW OFFICE has practiced law in Thailand over 20 years. Ponthep graduated from Ramkhamhaeng Law School whereby he received his Bachelor Degree (LL.B) from the hands of his Majesty the King in 1981. Ponthep was called to the Thai Bar in the following year to start his profession of advocacy for both civil and criminal cases. It was the real period to set up a strong root of legal profession by absorbing a real basic instinct as advocate for justice.
view certification
Ponthep Werachon, Principal Solicitor
The Long and Winding Road to Justice
From 1981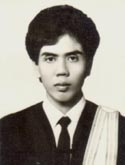 After 5 years of legal practice, Ponthep joined the management team of a Japanese construction company, "Shimizu Construction" hiring about Thai 4,000 workers for a mega project of the national housing estate (HDB) in Singapore. During this period, Ponthep dealt with local authorities on behalf of Thai workers for various legal and administrative affairs. As a former expat in Singapore, Ponthep gained a profoun understanding of feelings of expats who were hungry for the "Bread of Justice" in a foreign country.
Ponthep Werachon 1981
After two years in Singapore, Ponthep came back to Thailand to resume his legal profession. Ponthep developed his professional expertise to work with foreigners. In 1985, Ponthep decided to continue his studies in Europe. He was admitted to University of Lausanne, Switzerland in the Faculte de Lettre. The main domain was French Literatutre & Comparative Linguistics. In the heart of Europe, Ponthep fully devoted himself for the total integration with the western culture. Ponthep also attended many courses in European laws.
Ponthep came back to Thailand in 1989 to join a leading Thai lawyer, Anek Srisanit who was the then President of the Asian-Pacific Lawyers Association and Lawyers Association of Thailand. Ponthep was assigned to work with a Thai- Australian law firm "Anek-Mallesons Stephen Jacques International Legal Consultants". From a street lawyer, Ponthep exposed himself to many sophisticated lawyering know how for international taxation by the assignment to advise many top class clients, e.g., Hilton International, Japan Airline, Jim Thomson, Unocal, etc. As a French speaking lawyer, Ponthep was assigned to supervise Allied Consultants, a subsidiary law firm of Anek Srisanit for French speaking clientle. After several years, Ponthep moved to join a top five international consulting firm, Arthur Andersen as a senior lawyer for corporate and tax practice.
After Arthur Andersen, Ponthep moved to a well respected Thai law firm under American supervision, Tillege & Gibbins with a 100-year presence in Thailand. Ponthep gained many lawyering expertise for international litigation and arbitration for corporate and private clients. This period was a real golden opportunity for Ponthep to work with two legendary heavy weight lawyers, David Lyman and his late partner Roland Perriera. Ponthep was assigned to be a solicitor for a team of the best litigators in Thailand. Ponthep took the international course organized by the Ministry of Justice for International Practice & Arbitration.
With the intensive expertise, Ponthep felt that he was not anymore an eaglet to stay in the nest. He decided to fly high by setting up his own practice. In this period, Ponthep had dealt with both corporate and private clientele. He was in the team of tax advisors for the company dealing with the subway project. The main clientele consisting of many factories and individuals who were retired executives. One of the multinational client is Guy Degrease SA, a French manufacture of kitchenware listed in the Paris Stock Exchange.
To educate the foreign community in Thailand, Ponthep organized a Law Symposium in May 1999 for all foreign embassies and consulates in Thailand. Ponthep has a great reminiscence of his advocacy for a French national who was arrested in the international flight of Thai Airways. This French man was well educated with a doctorate degree in engineering. He is one of his ideal client who trusted in the Thai justice system. He invoked justice to defend himself and finally, he was acquitted by the Criminal Court. This case totally strengthen the ideology of Ponthep that Thailand is the Kingdom of Justice.
After two decades in a long and winding road of justice, Ponthep met with a young female lawyer and qualified tax accountant, Darunee Werachon who became his spouse and partner.
The couple decided to merge the legal and accounting practice into a "tailor-made legal & tax services" exclusively for individual private clients coming increasingly to Thailand.
Destination Pattaya
In the dawn of the year 2000s, there were many executives in Bangkok coming to Pattaya for their early retirements and one of them was Kenneth Gibbson who was the top man of BBC in Thailand. The couple found that Bangkok was not anymore the livable place for their family especially their new born child.
With the invitation of many clients who ran away from Bangkok, the couple decided to move to Pattaya. "WERACHON LAW OFFICE" was officially open in 2003. The firm was created to render comprehensive and personalized services to private clients.
Ponthep became shocked with the quality of justice in Pattaya whereby most of expats had no access to legal knowledge. In the past, only people who behaved like children, sailors and drunken men coming to Pattaya. These people may enjoy protection from god. They just came to Pattaya to relax in beer bars like spoiled children. Nobody bought property. But now more serious persons coming to settle down in Pattaya. However, most of them are gullible by their ignorance. The road to justice for expats in Pattaya seems to be a labyrinth. They need the light of knowledge to take them out of the darkness of ignorance. Ponthep concluded that "No bread of justice is available if all expats have no access to the truth, and the only way to help them is to provide them with a power of knowledge. To integrate himself to the complexity of the newly multicultural community, Ponthep joined many charity clubs to find the answer whereby he became a Board Member of Pattaya Expat Club in 2004-2005 and Secretary of Rotary Club of Pattaya in the same year. With the profound knowledge about expats, Ponthep turned himself to be the first Thai lawyer who regularly contribute legal article the English language newspaper.
He started writing many legal articles to candidly forewarn all property buyers in Pattaya under the concept of "CAVEAT EMPTOR". His articles are now published in "Pattaya Today Newspaper" and "Real Estate Guide". The owners of these two medias strongly believe that if any man has ears, let him hear the truth because only the truth shall set him free. The new mission as a tabloid lawyer forces Ponthep to run after the deadline for his article in every 15-day.
Barry Kenyon, Honorary Consul for British nationals in Pattaya & Manager of Pattaya Today Newspaper is the great inspiration of Ponthep. He coaches Ponthep to debut the spirit of journalism to tell the truth to the community. Ponthep finds no difference between the spritit of journalism and justice advocacy to fight for the truth and justice as a brave man who dies only once.
Ponthep always has a dream that the equal protection under the Constitution of Thailand be applicable to all foreigners living in Thailand. Ponthep shares this idealogy with his long time friend, Kwanchai Chotiphan who deicded to become a senior partner of WERACHON LAW OFFICE. Kwanchai is a real "Advocate for Justice" with legal experience for more than 20 years. Kwanchai is currently a Legal Advisor of the House of Senators and Executive Committee of the Lawyers Council of Thailand. His practice is involved with many administrative appeals against unfair treatment by authorities which includes petition with all independent constitutional institutions, i.e., the Ombudsman, Human Right Commission, Administrative Court, Constitution Courts.
Ponthep & Kwanchai adhere to the universal concept that legal service is not a business but learned profession which is their "Bread and Butter". The firm is independent from either business or political influence to be a last resort for all foreigners in need of a "Bread of Justice".
Ponthep is also licensed as a qualified Notarial Services Attorney which is equivalent to Notary Public to handle all notarial services including commissioning for oath.
At the age of fifty, Ponthep has never been agnostic of law and justice. His passion for legal profession is still profound.
"Will your father give you a stone of prejudice if you ask him for a bread of justice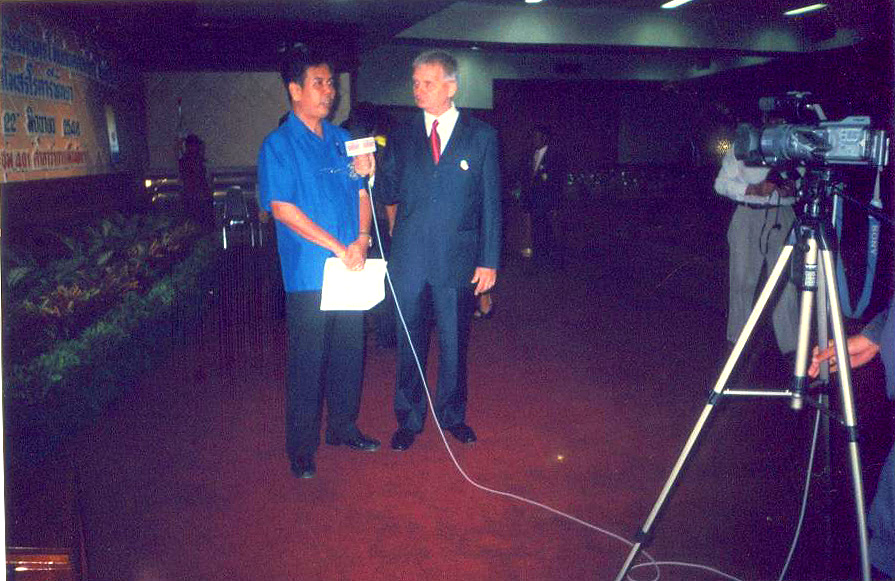 Ponthep has never involved in any separate lucrative activities or business which may involve him in a concurrent conflict of interest. Ponthep prefers to spend his time each day to work and sharpen the edge of his knowledge which is required for protection and advocacy for foreign clients which is the only thing he can do until the last day of his life in Pattaya.