THE NOMINEE
THE NOMINEE – Aliens have landed to buy land in Pattaya
The Controversial Amendments of the Alien Business Act 1999
A plethora of laws and regulations impacting on Property Buyers in Pattaya
(Updated May 2, 2007)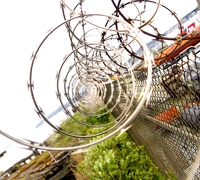 The doctrine of Buddha enlightens us about the nexus of factors in the universe which may influence or produce effect to each other. We have to use our wisdom to ascertain the equilibrium among all factors surrounding us. This doctrine is in a parallel with the "Sufficiency Economy Doctrine" of His Majesty the King. We can reach the state of sufficiency if we can maintain the equilibrium by creating immunity to protect us from the impermanence in this world.
The plethora of laws and regulations always create impacts on property buyers in Pattaya.  There is no record about the private direct investment (PDI) in Pattaya. Most of them buy properties for their retreat. These investors must have more understandings because they invest not only their hard earned money but also their hearts and souls. Setting up a Thai company to buy property becomes a common practice for many foreigners strongly believe in the old say that "Hell hath no fury more than a woman scorned". These foreigners have a suspicious mind to put their properties in the names of their Thai ladies. However, some foreigners who still have a brave heart may protect themselves by creating a mortgage agreement providing that their Thai nominees borrowed money from them to buy properties.
Do they break the laws of the Kingdom" If the answer is "Yes", "What laws"" should be a question in your mind. In this article, we will talk about two laws, i.e., the Land Code 1954 and Alien Business Act 1999 and the Controversial Amendments 2007.
The Land Code 1954
The Land Code 1954 imposes a restriction on all foreigners to the ownership of land, with the exception of inheritance from a Thai national or investment of Baht 40 millions or seek for investment privileges under the Board of Investment (BOI) or Industrial Estate Authority of Thailand (IEAT). You may search for the complete version of the Land Code (1954) governing Foreign Ownership in the reading room our webpage www.thaisolicitor.com.
The company is deemed "Foreigner" or "Alien" by Section 97.- with the criteria for determining by the  "Number of Shares " a  foreigner or foreigners hold in that company. If the number of shares held by a foreigner or foreigners is not more than 49%, the company can enjoy the status of a Thai company to have the ownership of land even a signatory director is a foreigner. There is no restriction about the "Voting Right" in which foreign shareholders can have preferential shares to have more voting rights more than Thai shareholders.
Many foreigners see the loophole to have Thai nominees to hold 51% shares of their shares. The word "Nominee" was the jargon term secretly used by a certain group of lawyers and their clients without any proper definition until the midst of 2006 in which the term "Nominee" became conspicuous to the public by the acquisition of shares of Shin Corp by a Singaporean Company involved with many strategic businesses under the Alien Business Act 1999.
Having a "Nominee" is illegal under what law and punishment should be the question in your mind.  "It is either the Land Code 1954 or Alien Business Act 1999 or both"
Section 113.- of the Land Code 1954 imposes the punishment for any Thai person who connives with a foreigner to own land. We cannot find any punishment for foreigners involved in using "Nominee Structure". However, these foreigners may be punishable by other laws for a specific circumstance, e.g., production of false information to a registrar.
"Anyone acquiring the land as an agent (acting on behalf of the other) of any foreigner or alien juristic person shall be liable for fine not more than Baht 20,000, or imprisonment of not more an two years or both"
The company having "Nominee Shareholders" shall be fined not more than Baht 50,000 by Section 112.
The implementation of the Land Code has been practically tolerant in many resort cities, especially Pattaya for decades. With the problem in Koh Samui in May 2006 about the bandidos allegedly laundering their dirty money in some development projects, the public became aware of the "Conspiracy Theory" that some foreigners set up more than 300 companies for each of them with some lawyers who became their nominee shareholders. How can a lawyer have money to invest in 300 companies"
On 15th May 2006, the first circular letter was issued by the Land Department to all land offices to check all Thai-foreigner jointly owned companies (51% Thai, 49% foreigner) who apply for the ownership of land. The investigation will be made with all Thai shareholders to ascertain if they are real or nominee shareholders. The criteria were the educational and financial background of all Thai shareholders. Even some lawyers were blacklisted for holding shares in uncountable companies for their clients. However, some foreigners find the loophole to set up a 100% Thai company to transfer the land to the company first and after transfer the 49% shares and directorship back to foreigners. If the area of land is not more than one rai, the land registrar will be practically tolerant. Please search for more information "The New Zero Tolerance Policy of the Land Department" in our reading room www.thaisolicitor.com
Most foreigners setting up a Thai company to buy real properties in Pattaya are retired person who can enjoy their hibernation. No "Conspiracy Theory in any Crime" to harm a society.  The company is "Dormant" without any business activities with the only one purpose to own property for retreat. However, these dormant companies must register their contemplated business activities or objectives. Nobody care what activities their lawyers will put for their dormant company. The most popular activities are "Purchase, Sale and Rent of Real Property" "Import, Export" and  "Business Consultancy" etc. Please search for more information "Setting Up a Dormant Company to Buy Land" in our reading room www.thaisolicitor.com.
The Alien Business Act 1999
The implementation of law can be practically tolerant by a specific rationale for specific region. The equilibrium between the tolerant pragmatism and the good faith of property buyers in Pattaya was affected once again by the scandalous acquisition of  Shin Corp by a Singaporean company by using the "Nominee Transaction" which is in violation of the Alien Business Act 1999.
As you are well aware, Shin Corp is owned by the family of our former prime minister who was toppled by the coup on 19th September, 2006. Shin Corp is the concessionaire of many strategic businesses which are TV station, airline, telephone etc.
On 20th July, 2006, the Commerce Ministry issued a circular letter to all company registrar offices instructing them to inspect all Thai shareholders in the newly set up Thai-foreigner joint companies to ascertain if they are real or nominee shareholders. All Thai shareholders will have to show the bank statement for the past six-month period.
However, the inspection will not be retroactively on the existing companies or 100% Thai companies who apply for the change of shareholding structure from 100% Thai to be 49% foreigners and 51% Thai with a foreigner as a signatory director.
The violation of the Alien Business Act 1999 by using the "Nominee Shareholders" is more serious than the violation of the Land Code 1954. The imprisonment and fine under the Alien Business Act 1999 is applicable also to foreigners.
Many foreigners strongly criticize the Land Code 1954 and Alien Business Act 1999 as the xenophobic laws. They want Thailand to open every sector "Foreigners can own land and do whatever business they want to do". The protectionism is contrary to the concept of free trade and liberalization under the frame work of the World Trade Organization (WTO). How about the concept of "Nativism"" We should also protect local or native people who are marginalized from the vice of globalization by the giant multinational investors. In Las Vegas, one hotel can make income more than the whole native Indians in Arizona. However, the US Supreme Court granted privileges to all native Indians to have their rights for allocation of water for their agriculture before selling to Las Vegas.
The strategic business is the eminent domain for every country, e.g., Hugo Chevez recently announced his draconian policy to nationalize the energy and communication businesses.
The USA which is the most liberal country protects UNOCAL from the acquisition of the Chinese investors, and ports from non WASP investors. The EU protects their steel and heavy industries from the Indian investors. Japan and Switzerland protect their alimentary industry. England protects their football team from the non Caucasian investors. Who can tell us the proper rationale"
The Alien or Foreign Business Law 1999 divides business into three categories with the different degree of restriction to foreigners from Annex I includes businesses which are absolutely taboo to foreigners by the special reason.  Annex II includes businesses involving National Safety or Security or Affecting Art, Culture, Traditional Customs, Folk Handicrafts or National Resources and Environment. However, foreigners can do the businesses listed in Annex II by seeking permission from the cabinet and Annex III are businesses involved with service businesses in which Thai nationals are not ready to complete with foreigners. However, foreigners can do these businesses by seeking permission from the Director General of the Department of Business Development.
For businesses not mentioned in these three categories, foreigners can freely do without permission, e.g., manufacturing. You may set up a factory with 100% shares. The privileges under the Board of Investment (BOI), Industrial Estate Authority of Thailand (IEAT) or the Thai-US Treaty of Amity and Economic Relations can also exempt foreigners from the restrictions under the Alien Business Law 1999.
Some elusive foreigners find the loophole of the Alien Business Act 1999 to set up a Thai company which requires 51% Thai shareholders. Some foreigners use the "Nominee Shareholders" to hold 51%, some foreigners ask their lawyers to draft the special articles of association to provide majority voting rights to foreign shareholders by the preferential shares.
On 9th January,2007, the interim government approved in principle amendments to the Alien Business Act 1999 to make the clear the criteria for determining if a company use "Nominee Shareholders". The companies providing the preferential voting rights or preferential shares to foreign shareholders, e.g., one share for ten votes will be deemed "Alien or Foreign Companies". The draft also proposes the severe punishment to be the maximum of five years imprisonment and fine five millions baht. The new Alien Business Act will require the companies using the nominee shareholders or preferential voting rights to report and plead guilty to the registrar within 90 days or one year. For the businesses in Annex I and II, the enforcement will be very strict while the enforcement for the businesses in Annex III will be lenient.
What are the business activities and objectives of your company". If your business activities involve "TV station", you will definitely share the same destiny with Shin Corp because the television station of business is listed in Annex I. If your business activities involve "Purchase, Sale and Rent of Real Property" which are deemed "Land Trading", your business activities will fall into Annex I.
The business activities of land trading require your company to register the Specific Business Tax (SBT) for real estate business or Value Added Tax (VAT) that will be burdensome for you. It is advisable to register your business in Annex III which may be "services" or "import-export". You company can become dormant but paying tax for 4,000 to 5,000 Baht or more for the rent you pay to your company. You will not be involved with any "Conspiracy Theory". If you declare the dormant status of your company to the Tax Office, your company will not fall into the Alien Business Act 1999.
The draft amendments of the Alien Business Law is still under the scrutiny of the Council of State before sending to the parliament and finally His Majesty the King for approbation which will definitely take long time. If you are good faith person, you may still enjoy the equilibrium of your status quo.
The worst-case-scenario is if you mistakenly registered business the activities of "nuclear plant" for your dormant company, you will definitely have a big problem with Mr. Bush.
For more information about Thai laws on foreign ownership, please search in our reading room www,thaisolicitor.com or call (081) 423-4255
Annex 1
Business which aliens are not allowed to operate for special reasons
(1)  Newspaper publication, radio or television station business
(2)  Rice, field crops or horticultural farming
(3)  Livestock farming
(4)  Forestry and wood processing from natural forests
(5)  Fishery, but only the catching of aquatic animals in Thai territorial waters and in the Exclusive Economic Zone of Thailand
(6)  Extraction of Thai herbs
(7)  Trade and auction of Thai antiques or objects of national historical value
(8)  Manufacture of casting of Buddha images and manufacture of alms bowls
(9) Trading in land     *************************
Annex 2
Business Involving National Safety or Security or Affecting Arts,  Culture,  Traditional Customs,  Folk Handicrafts or Natural Resources and the Environment
Chapter 1 Businesses involving national safety or security
(1)  Manufacture, sale and maintenance of
(a)  firearms, ammunition, gunpowder and explosives,
(b)  components of firearms, ammunition and explosives,
(c)   armaments, military ships, aircraft or vehicles,
(d)   accessories or components of war equipment of all kinds
(2)  Domestic land, water or air transport, including domestic aviation business
Chapter  2  Businesses affecting arts,  culture, tradi-tional customs and folk handicrafts
(1)     Trade in antiques or objects of art, being Thai works of art or handicrafts
(2)     Manufacture of wood carvings
(3)     Silkworm raising,  manufacture of Thai silk threads, Thai silk weaving or Thai silk pattern printing
(4)     Manufacturing of Thai musical instru0ments
(5)     Manufacture of products from gold, silver, niello, bronze or lacquerware
(6)     Manufacture of crockery or earthenware which are Thai cultural arts
Chapter  3  Businesses affecting natural resources of the environment
(1)   Manufacture of sugar from sugar cane
(2)   Salt farming, including efflorescent salt production
(3)   Rock salt mining
(4)   Mining, including stone blasting or crushing
(5)   Wood processing to make furniture and ulensils
Annex 3
Businesses in Which Thai Nationals Are Not Yet Ready to Compete with Aliens
(1)   Rice milling and production of flour from rice and field crops
(2)   Fishery, bur only aquaculture
(3)   Forestry from cultivated forests
(4)   Manufacture of ply wood, wood veneer, chip-board or hard-board
(5)   Manufacture of lime
(6)   Accounting service business
(7)   Legal service business
(8)   Architectural service business
(9)  Engineering service business
(10) Construction, except
(a)   construction of things providing fundamental services to the general public in respect of public utilities or communications requiring special equipment, machinery, technology or expertise, with alien minimum capital of 500 million baht or more;
(b)   other types of construction prescribed in ministerial regulations.
(11)   Brokerage or agency business, except
(a) brokerage or agency in trading securities or services relating to trading in agricultural commodity futures, financial instruments or securities
(b) brokerage or agency in the purchase and sale or procurement of goods or services necessary for production or the provision of services by an affiliated enterprise;
(c)   brokerage or agency in the purchase and sale, purchase, distribution, or acquisition of markets, both domestic and foreign, for the distribution of domestically manufactured or imported goods, in the nature of operation of an international business, with alien minimum capital of 100 million baht or more;
(d)   other types of brokerage or agency prescribed in ministerial regulations.
(12)     Auctioneering, except
(a)   auctioneering in the nature of  international bidding other than for antiques, historical objects or objects of arts, being Thai works of art, handicrafts objects or antiques or objects of national historical value;
(b)   Other types of auctioneering prescribed in ministerial regulations.
(13)     Domestic trade in local agricultural products or produce not yet prohibited by law
(14)     Retail sale of good of all kind, with a total minimum capital of less than 100 million baht or a minimum capital of each store of less than 20 million baht
(15)     Wholesale of goods of all kinds, with a minimum capital of each store of less than 100 million baht